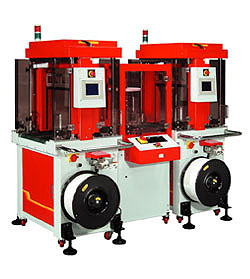 TP-711NT
Cross strapping system with turntable
Features
Robust & Compact Mechanical Strapping Head
The TP-711NT use the latest multi DC brushless motor technology to provide the highest level of accuracy currently available in the strapping machine industry.
With 30% fewer parts than comparable strapping machines, this machine requires fewer adjustments, has fewer wear components and requires less maintenance.
The simple design of this machine makes maintenance training far easier than ever.

Waist-High Auto Strap Feeding
Friendly design to feed the strap automatically from the upper side of coil without the need to access the bottom of the machine.

Bundle Rotating Turntable
Dynamic gripping design to secure the integrity of the bundle for cross strapping.

Adjustable Bundle Stops
Easy adjustment for bundle length to provide a positive bundle stop positioning and strapping placement.

Siemens PLC Control and Touch Panel
Provides easy adjustment, operating instructions and troubleshooting guide.
User friendly.

More Features
Automatic tension control for various bundle dimensions (patents registered)
Light tree alarm (dual lamp)
Jammed-strap ejection device (patents registered)
Adjustable compression system
Strap end detection and ejection
Automatic strap loop ejection
Adjustable table height between 885 mm and 930 mm
Safety guards according to CE regulations (Optional for non-EU countries)
Operator friendly low strap sensor (triple lamp)
Soft press for convex bundles
Press bar for concave bundles
Lower adjustable table height (815 mm and 890 mm)
Automatic side squaring
Technical Data
Capacity up to 30 bundle/minute (cross strapping)
Bundles Size
Bundle Diagonals
max 510 mm
Width x Length
min 180×180 mm
Height
max 380 mm
min  10 mm
Bundles Weight: max 25 kg
Strap Width: 5 mm, 6 mm or 9 mm P.P. strap
Strap Tension: 1-35 kg
Strap Coil: 200 mm (150 mm optional)
Electrical Requirements: 110V, 220V, 230V 50/60 Hz 1PH | 230V, 380V, 400V 50/60 Hz 3PH
Net Weight: 904 kg