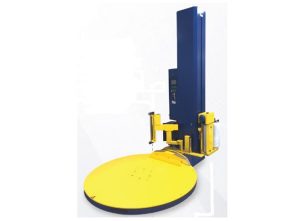 Features
Fully automatic working process activated through a remote control:
automatic film clamping at the beginning and automatic film cutting/welding at the end of the cycle.
Cross wrapping cycle (during the film carriage ascent and descent) with adjustable setting for the bottom and top reinforcing wraps.
Low profile turntable (75 mm from the floor level, with chain transmission), 1650 mm diameter, suitable for pallets with a dimension up to 1000 mm x 1200 mm.
Turntable (chain transmission) rotating speed up to 12 rpm, controlled by inverter, with soft start and progressive indexed arrival at the end of the cycle in the same starting position.
Maximal loading weight up to 2000 kg.
Automatic pallet height detection through photo-eye (black, white or reflecting loads require specific photo-eyes that can be mounted on request).
Film carriage (chain transmission with adjustable speed, controlled by inverter) equipped with a 200% fixed power pre-stretch system (1 mt=3 m) with an easy film loading and tension control.
Stretch-film roll with external diameter up to 250 mm, on a 3" (76 m)
internal core, and width/height of 500 mm (thickness up to 35 my).
Working functions controlled through by microprocessor.
Power supply 240 V – 50 Hz – 1 Ph – 1,25 kW.
Compressed air consumption of 10 Nl/cycle at 6 bar.
Noise level: less than 75 dB (without film).
Suitable to operate in room conditions with temperature between +5° and +40 °C (humidity less than 95%).
Overall machine dimensions: 2700 mm L x 1650 mm W.
Total machine weight: 700 kg approx.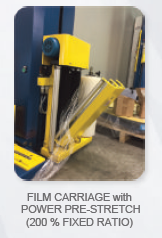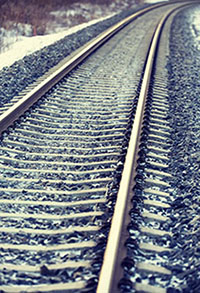 We understand that you may require something a bit out of the ordinary and that's the nature of the business we are in. There are generally alternative options available so please give us a call, and let us help you get on the right track for your specific requirements.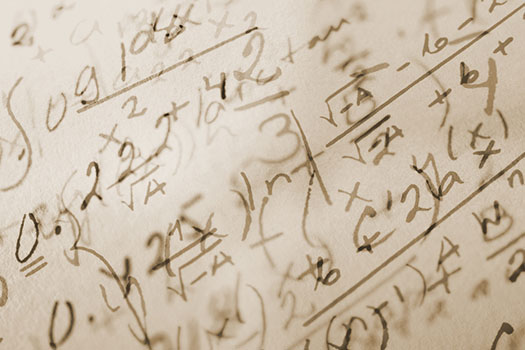 If you require technical data for this product please give us a call and we will be more than happy to provide any thing we have on file.
>