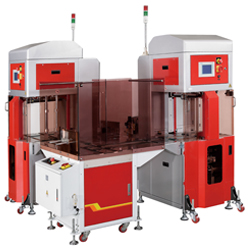 TP-702NAD
Cross strapping system with multi-angle diverter
Features
Robust & Compact Mechanical Strapping Head
TP-702N uses the latest DC brushless motor technology to provide the highest level of accuracy and reliability on the market.
All motors are German-made. The strapping head has no belts, clutches or pulleys.
It is designed with up-to-date technology with few moving parts. With 30% fewer parts, TP-702N requires fewer adjustments, has fewer wear components, and requires less maintenance.
The simple design of TP-702N minimizes the maintenance cost.

Siemens PLC Control and Touch Panel
Provides easy adjustments, operating instructions and trouble shooting guides.
Easy TEACH-IN programming without the need to adjust the setting when changing to different bundle size.

Easy Access to Strapping Head (patents registered)
The whole strapping head can be completely pulled out during production.
With this most user friendly design, operators can perform maintenance directly without pulling out the machine from the production line.

Free Access to Strap Guides (patents registered)
Unblock the guides enabling free and quick access to strap guides without the use of any tools.
The most maintenance-friendly design.

More Features
Automatic tension control for various bundle dimensions (patents registered)
Dual pneumatic press
Up and down stream interlocks with complete plug connection
Waist-high auto strap feeding
Light tree alarm (dual lamp)
Quick coil change
Automatic end-strap detection and ejection
Automatic strap loop ejection
Multiple infeed and delivery directions
Adjustable table height between 820 mm and 900 mm
Energy saving transit with auto sleep mode
Operator friendly low strap sensor (triple lamp)
Soft press for convex bundle
Automatic side squaring
Low volume bundle bypass
Movable casters (picture shown with this option)
Lever switch for bundle with wrapping
Safety guards (picture shown with this option)
Capacity single/cross strapping up to 25 bundle/minute
Bundle Size Width
max 500 mm
min  210 mm
Length
max 500 mm
min  210 mm
Height
max 400 mm
min  10 mm
Bundle Weight max 25 kg
Strap Width 5 mm, 6 mm or 9 mm P.P. strap
Strap Tension 1-32 kg
Strap Coil 200 mm (150 mm optional)
Electrical Requirements 220V, 380V, 400V 50/60 Hz 3PH
Net Weight 1,045 Kg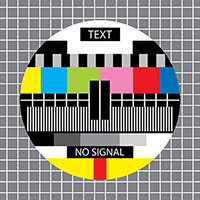 Sorry, we don't have a video for you at this stage but we are working on it. In the meantime, please give us a call and we may be able to provide some other links of the product for you to view.