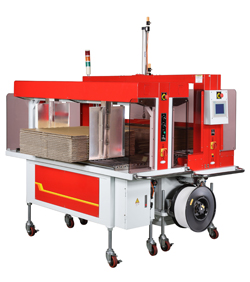 TP-701CCQ CORRUGATED STRAPPER with BUNDLE SQUARER
The TP-701CCQ is a fully-automatic strapper with high strapping productivity and the most cost-effective bundle squaring solution for the corrugated industry.
Features
Compact Mechanical Strapping Head
The corrugated strapper TP-701CC uses the latest DC brushless motor technology to provide the highest level of accuracy currently available in the strapper industry.
With 30% fewer parts than comparable strappers, TP-701CC requires fewer adjustments, has fewer wear components and requires less maintenance.
The simple design of the TP-701CC minimizes the maintenance cost.

Squaring + Strapping Combo Model
TP-701CC Strapper combine with CC-BSS Bundle Squarer to make the bundle squared before strapped and ensure the integrity of the bundle.

Adjustable Table Height
The table is adjustable to any height between 750 mm and 1100 mm.

Hinged Top Plates
Fully opens for quick cleaning, inspection, and maintenance of strapping head, strap-feed and tensioning unit.

Siemens PLC Control
Siemens PLC is the state-of-the-art controller.
It is programmable and can be expanded flexibly depends on the application's requirement.
With touch panel (HMI) for operating instructions, easy adjustment, and troubleshooting guide.
User friendly.

Waist-High Auto Strap Feeding
Friendly design to feed the strap automatically from the upper side of coil without the need to access the bottom of the machine.

More Features
Auto strap ejection
Patented jammed-strap ejection device
Full-width pneumatic press
Single, double, continuous strapping or transit mode
Knurled roller-driven table top
Variable conveyor speed
Strap end detection and ejection
Adjustable pressure on press bar and squarer
Up and down stream interlock with complete plug connection
Light tree alarm (dual lamp)
Light tree alarm with low strap sensor (triple lamp)
Automatic tension control for various dimension of bundles
Arch Sizes
Strap Width: 5 mm, 6 mm, and 9 mm
Strap Tension: 8 kg-35 kg
Speed 24 bundle/minute (single strap) + 15 bundle/minute (double straps)
(Model TP-701CCQ-L /1650×500)
Table Height: 750 mm-1100 mm
Pneumatics Source: 6 bar
Air Consumption: 15 liter/cycle
Minimum Packaging Size: 300 mm(L) x 200 mm(W) x 20 mm(H)
Net Weight: 975 kg (Model TP-701CCQ-L)
Electrical Requirements 110V, 220V, 230V 50/60Hz 1PH 220V, 380V, 400V 50/60Hz 3PH